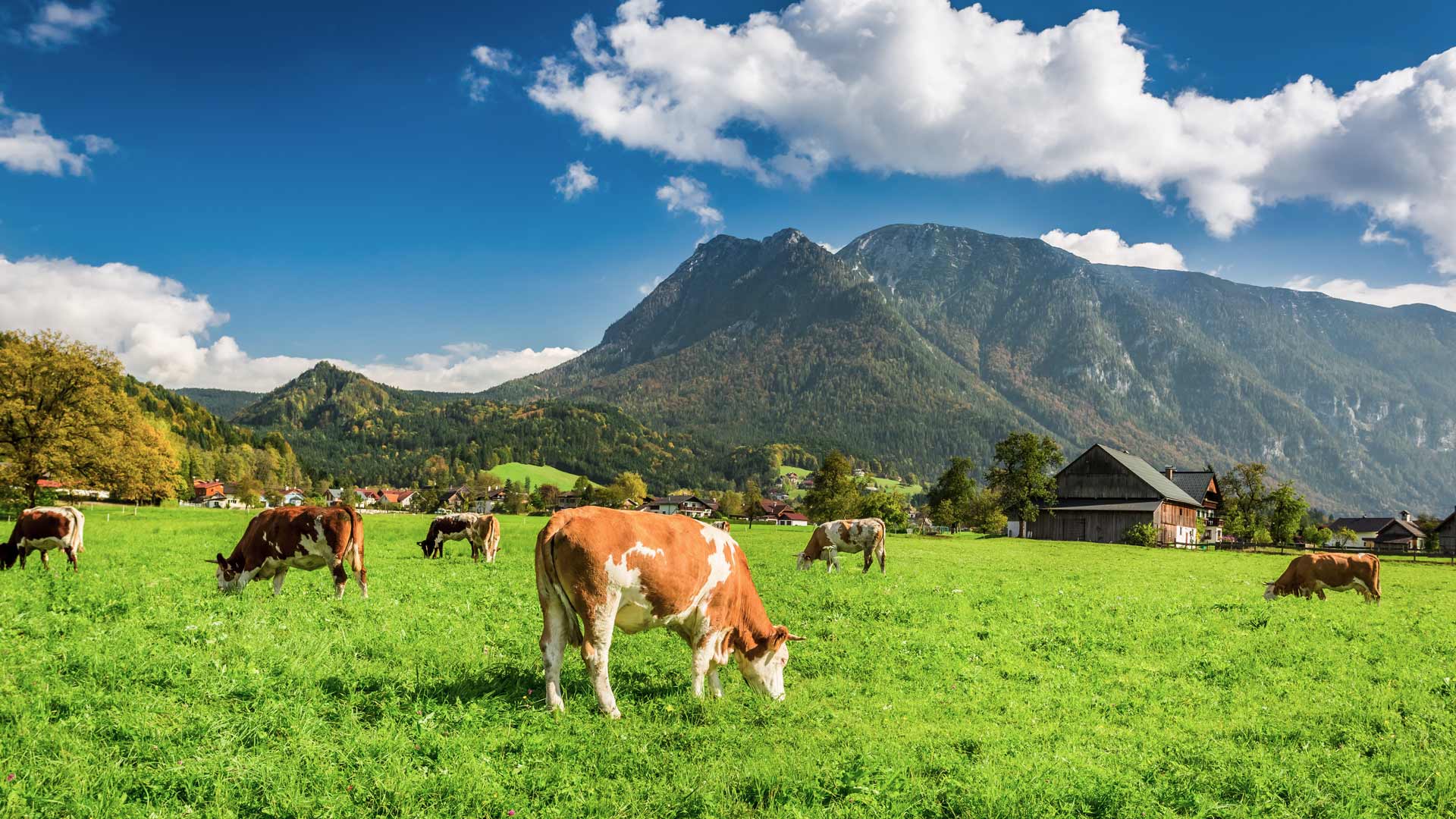 ALPENRIND and the past history
Slaughterhouse Salzburg has a history that is over 80 years old. It goes back to 1930 and an initiative of the Federal Ministry for Agriculture and Forestry. At that time, livestock agencies were setup in the livestock departments of the main state agricultural bodies. The company then was the predecessor to today's ALPENRIND salzburg.
2020
The Traunstein plant will no longer be operated by ALPENRIND after March 31.
2017
In 2017 ALPENRIND salzburgcelebrates its 10th anniversary.
2015
In July 2015 ALPENRIND will take over the operational management of the slaughterhouse in Traunstein.
2014
Curing room for Dry Aged Beef setup in the new building and production of fine beef through dry aging started.
2013
In June 2013, our largest investment thus far is made: ALPENRIND invests about ten million Euros in a functionally and architecturally very successful two-story addition with floor space of 2,130 square meters. In addition to a highly modern refrigerated warehouse with high-bay storage, the new building provides space for new curing facilities and sales offices.
2012
In April 2012, ALPENRIND is certified according to the IFS-6 standard. ALPENRIND bayernbecomes an exclusive partner in the marketing of the meat label program "Certified Angus Beef Germany".
2011
Certification of ALPENRIND salzburgaccording to environmental standard ISO 14001.
2010
Certification of ALPENRIND salzburgaccording to IFS 5.
2009
Name changed to ALPENRIND GMBH with headquarters in Salzburg and a branch in Traunstein.
2008
Takeover of regional and international marketing in Traunstein and inclusion in the OSI International Group. Relaunch of the brand ALPENRIND as ALPENRIND salzburgand ALPENRIND bayern.
2007
Raiffeisenverband Salzburg (RVS) leases the slaughterhouse in Salzburg to a new operator, OSI International Holding GmbH, now OSI EUROPE FOODWORKS GMBH.
2005
Startup of new butchering plant and introduction of ALPENRIND salzburgbrand.
2004
The extension for the expansion of the dismantling is started.
2000
During the BSE crisis, more refrigeration rooms are built in order to meet the extensive storage regulations. All cattle older than 30 months must undergo a BSE test. Meat can only be shipped after providing test results.
1999
Additional refrigeration rooms are built to cope with the increase in production.
1993
Current standards are inadequate for EU approval so the slaughterhouse is renovated at an investment of EUR 7.27 million (100 million Schillings).
1989
The municipality sells the slaughterhouse to Raiffeisenverband Salzburg.
1981
Salzburger Viehverwertung markets 25,800 animalsnationally and 4,000 internationally. 3,500 beef cattle are processed in Salzburg; of these, the share of the Viehverwertung organization is 2,200 cattle.
1975
FLEIWA (Meat Product Central) is established. It is responsible for all the marketing of meat and meat products and runs an affiliated butcher operation. An auction hall is built next to the agricultural center in Tamsweg/Lungau and a hall is also built in St. Johann/Pongau. Marketing possibilities for farmers are thus considerably improved.
1968
The old slaughterhouse at Gebirgsjägerplatz in the city of Salzburg is demolished and the municipality builds a new operation on a city-owned property in Bergheim. Raiffeisenverband Salzburg (RVS) buys the remaining property and builds administrative and stall buildings (for about 200 cattle) and space for piglet and calf marketing, along with refrigeration systems for butchering.
1962
Due to economically difficult times, Raiffeisenverband Salzburg arranges for takeover of the livestock valuation cooperative and runs it as its own department.
1950 – 1960
In collaboration with the association in Vienna, a merchandising stall at Ziegeleistraße/Salzburg is bought. At this time, the productive livestock business far exceeds beef cattle sales and they actively get involved in fighting TBC and BANG (a now extinct cattle disease with a course similar to TBC).
1948
2,660 cattle, pigs and calves are sold live and 2,300 slaughtered animals are marketed already; in addition to this there are 1,500 productive livestock.
1946
Salzburg Viehvermarktungs reg. Gen.m.b.H. is established. The majority of the cooperative members are local and the cooperative is therefore not very big. An agency is run for beef cattle; Kuchl and Hallein each have a slaughter hall. Soon there is representation for all important cattle, beef and poultry markets, as well as auctions, and this represents an important economic factor for the livestock and sales region in the Alpine foothills.
1930
At this time, Schlachthof Salzburg did not undertake any marketing activity and its only purpose was to support the selling of livestock. To promote sales and shipping, the livestock organization intervened but a potential marketer was still lacking. The first initiatives to establish a livestock valuation cooperative came from the region of Kuchl in Tennengau. Johann Siller, a farmer in Kuchl, started organizing livestock sales in the slaughter hall.